Chalet_Bellevue_2_sejour1
Chalet_Bellevue_2_sejour2
chalet_bellevue_evolene_sejour
evolene_dent-blanche_en_hiver
chalet_bellevue_evolene_ete
The Basecamp | Holiday apartment rental in Evolène | Herens,Valais,Switzerland
Your Holiday apartment in Evolène is situated in an authentic chalet built in 1929. Back to nature, slow life and healing facing one of the best views of the Alps. The Holiday apartment rental is located on the top floor of a traditional Evolène chalet built around 1930, was completely renovated recently with tasteful furnishings. It offers the ideal setting for a calm and restful holiday. In addition, the balcony has a majestic view of the bottom of the valley, the Dents de Veisivi and the Dent Blanche.
Looking for a holiday apartment rental in Evolène or a seasonal rental in the val d'Hérens ? The Chalet Bellevue Lodge in Evolène : an exceptional situation.
Opened all year
Check-in 4 PM; Check-ou: 9 AM
Stays under 7 nights possible only on last minute reservation
Tradition & Relax
Authentic Chalet
Free Wifi
Pets welcome
Very quiet
Central location
Exclusive View
Plein sud
Gallery
Testimonials
Nous sommes fans de cette magnifique vallée et nous avons eu la chance d'y fréquenter divers hébergements depuis quelques années. Cette année, le hasard nous a conduit vers ce magnifique appartement parfaitement rénové dans un chalet typique. Le propriétaire nous a réservé un accueil formidable et nous nous sommes sentis tout de suite comme chez nous. Il connait très bien sa région et ses conseils ont largement contribué à la réussite de nos vacances. La vue est tout simplement incroyable, et nous avons passé des heures à admirer les levers et couchers de soleil sur la Dent-Blanche. L'appartement est très bien équipé. Il est propre, calme, chaleureux et authentique. Situés à proximité du centre et des commerces, nous n'avons pas utilisé notre voiture durant le séjour. Nous réjouissons de nos prochaines vacances ici.

Notre coup de coeur dans le val d'Hérens !

We spent 2 weeks in August 2015 in the typical wooden Chalet Bellevue apartment. Best location : very quiet and close to everything you need. The view from the balcony is amzing. Very reasonable priced and very attentive owner. Definitely a step up from the normal vacation apartments. Very clean. Hi-quality wi-fi connection. Highly recommend All in all, Chalet Bellevue apartment is ideal for those seeking the guaranteed privacy and tranquility of a family We are very much hoping to be able to find a week to make it back during the winter. Thank you Pascal for taking such good care of us! If we ever return to Evolène, you will be the first person we contact. Many thanks

Great Apartment with the best location in Evolène

Wir waren vier Erwachsene in Evolene und hatten in der gemütlichen Wohnung reichlich Platz. Es war sehr ruhig und die Aussicht vom Balkon und vom Wohnzimmer auf den Dent Blanc haben wir sehr genossen. Die Wohnung ist gut ausgerüstet mit W-lan, TV, Badewanne und allem nötigen in der Küche. Die Vermietung ist unkompliziert und doch sehr gastfreundlich. Da das Skigebiet nicht sehr gross ist in Evolene, gingen wir zweimal ins 4 Vallées zum Skifahren. Ein fast unbegrenztes Pistenvergnügen.

Gemütliche echte Walisser Wohnung mit wunderschöner Aussicht auf Dent Blanche

Na ongeveer tien jaar teruggekeerd naar de streek waar we vroeger reeds vele vakanties doorbrachten (Arolla). Deze keer ook een zeer aangename week beleefd in Evolene, in chalet Bellevue. Schitterende vergezichten en hartelijk verwelkomd door de zeer sympathieke eigenaar Pascal Gaudin. De locatie is een echte aanrader!

Enorm tevreden over chalet en omgeving

Nous sommes ravis de nos 15 jours de vacances passés au chalet Bellevue.(qui porte très bien son nom!) Accueil très sympathique du propriétaire. Appartement nickel avec tout ce qu'il faut pour passer des vacances très confortables. Situation exceptionnelle pour la vue et le calme. Je recommande vivement cette location. Un grand merci à Pascal pour sa gentillesse et sa disponibilité..

SUPERBE A TOUS POINTS DE VUE

This was a wonderful stay. Pascal was brilliant in communicating with us as part of the booking and really flexible about arrivals and departures which weren't ar the most comvenient hours. He offered loads of helpful advices when we were there too. The apartment is wonderful - just as the pictures show. It is great to stay in the top of such an amazing old building and the view from the old wooden balcony is breathtaking. Evolene is great - quiet and stunningly pretty, surrounded by beautiful scenery. Fantastic walking to be had all around including easy access to amazing high mountain trails. All in all, highly recommended.

Wonderful apartment in a wonderful place

"Das Chalet von Herrn G. in Evolene ist wunderschön gelegen mit einem herrlichen Ausblick. Die Einrichtung ist einfach aber sauber und sehr schön. Bei der Ankunft hat uns der Vermieter ein Gastgeschenk (Wein, Käse, Brot) bereitet. Er war sehr freundlich und hilfsbereit. Die Wohnung ist gut gelegen und verkehrstechnisch gut angebunden."

Das Chalet von Herrn G. …

Notre famille a séjourné ici en juillet 2015. De l'avis général, très bonne prestation et conforme au descriptif et aux photos de l'annonce, excellent accueil et disponibilité des hôtes. L'endroit est un petit paradis pour se reposer et profiter des nombreux sentiers alentours. Parfait pour les enfants et pour les adultes. A recommander ++ L'appartement est parfaitement équipé et les lits sont très confortables avec des couettes ! Il y a un joli balcon avec une vue magnifique sur les montagnes. La cuisine est bien équipée avec une table de salle à manger et des chaises. L'appartement est à seulement quelques minutes à pied du centre d'Evolène mais il n'y a pas un bruit. Il y est excellent accès wifi gratuit à la propriété et il y a une TV avec un certain nombre de chaînes. La propriété est propre et bien entretenue. .

Magnifique appartement, Environnement exceptionnel

Lieu très agréable, avec du cachet et du caractère, dans un environnement splendide; propriétaires sympathiques et accueillants

un séjour réussi
How to get there ?
Live-View from the balcony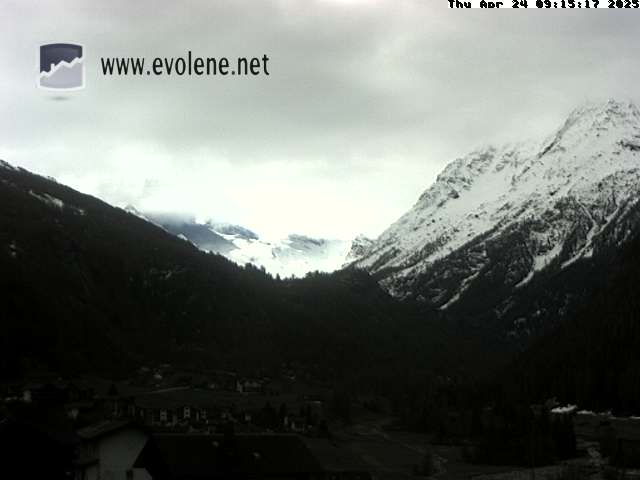 The hamlet of Evolène, one of the most beautiful village of Switzerland(Herens Valley,Valais)
Evolène: the perfect destination for hikers and mountain lovers. The Val d'Hérens remains one of the most unspoiled valleys in the Alps: nowhere in the valley will you see the huge condominium buildings or the mountain-sides defaced by overdeveloped ski-pistes that have become so common elsewhere. The Hérens Valley is still essentially agricultural, and the villages remain small, traditional, and strikingly picturesque. They are nestled among some of the highest mountains in the Alps, including the Dent Blanche, the Pigne d'Arolla and the Matterhorn, making the valley a perfect spot for both active and contemplative vacationers.